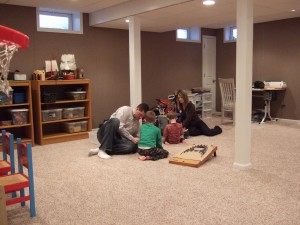 Homeowners who are planning to go on a basement finishing project needs to know a lot of things about the matter before they begin with it. And sometimes this can get overwhelming especially for someone who does not have inkling on basement finishing or any home renovation.
Here are ten simple tips to guide you in basement finishing:
Basement Finishing Tip #1: Make sure it's dry
Before you even get started on your basement finishing plans, check first if your basement is not prone to moisture problems that could lead to water pooling inside. Inspect the exterior walls for cracks, leaks and other moisture problems. Go out and make sure that the slopes of the ground are not directed on to the foundation walls. Clogged downspouts can also create significant moisture and can bring it into the basement, so keep it clean and free-flowing.
Basement Finishing Tip #2: Secure necessary permits
After checking for moisture and when the design plan is done, find out whether there's a need to secure permits for such basement finishing projects. Also, see to it that everything is done according to code especially the electrical works.
Basement Finishing Tip #3: "Shotgun" for studs
Ideally, studs are used for this kind of construction. You can use hammer and nails but a "shotgun" for studs is way more convenient to use especially for beginners. This device looks like a gun, only it is used for construction. It uses colored "bullets" that come in pretty colors – yellow, red, brown, and green, which signifies its strength or calibre.
Basement Finishing Tip #4: Install furring
Another solution to address moisture problems is the installation of furring strips on the walls. These strips provide half an inch of space between the interior walls and the moisture that could build-up on exterior walls.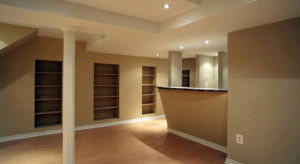 Basement Finishing[/caption]Basement Finishing Tip #5: Ensure vapor out and warmth in
Make sure that vapor is kept outside and the warmth inside. To prevent moisture from seeping in, you can use polyurethane sheeting. Give regard also to insulation that is wrapped in a vapour barrier.
Basement Finishing Tip #6: Suspended ceiling
It is best to opt for suspended ceiling if passage to electrical and plumbing systems in the ceiling is necessary. But you can also create access panels if drywall ceiling is desired.
Basement Finishing Tip #7: Recessed lighting
Since basements are built below the ground, usually natural light cannot get into the space. And most basements are also constructed with low ceilings, so using hanging lighting fixture is not a good idea. Thus, recessed lighting, such as cove lights are perfect for the space.
Basement Finishing Tip #8: Baseboard heating
Naturally, basements tend to be cool because it's constructed underground. So, to add warmth into the room, installing baseboard heating is a wise decision.
Basement Finishing Tip #9: Leave the furnace as it is
Furnaces are essential to keep the house warm during cold season. So, when planning for a basement finishing project, leave the furnace as it is. That way, you also save some money. But, if you must hide the furnace, you have to stick with the code, which is to ensure a space of at least two feet between the unit and the walls that surround it.
Basement Finishing Tip #10: Build up the floor first
Like what is said, basements tend to get cool and store up moisture because of its location. So it is wise to put a vapor barrier by building up a wooden floor and installing insulation boards underneath. By doing so, is protecting the space between the wood and the cement.
If you are planning to have a basement finishing project, contact a licensed home contractor with years of experience. Call Scott Fowler for a FREE assessment at (334) 246-2911 or fill out a contact form request.