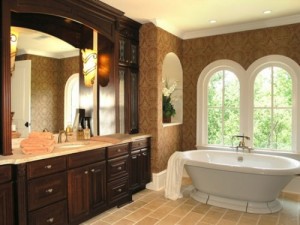 If you're tired of your old bathrooms a bathroom remodeling project may be what the doctor ordered. Bathrooms can become very dated with time and they can even begin to look dingy and dirty even right after they've been cleaned.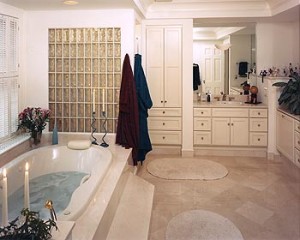 What once was a stylish avocado tub and commode now look like ancient remnants from the past. It can be frustrating and even embarrassing to have an outdated bathroom in your home. But you can update your bathroom and turn it into a source of pride.
A bathroom remodeling project may simply be an update of old fixtures into newer ones and to give a fresher look. Adding new faucets, light fixtures and hardware to vanities can sometimes transform the entire room. You can also add a coat of paint to a vanity to give it an updated look.
But if you need more of an update, it might be necessary to have a professional help you with the update. Changing out tubs, toilets, sinks, showers, and tile work can be a big job. It requires knowledge about plumbing, proper demolition, tile work, and electrical wiring.
You may think that you can do it yourself because it looks so easy on home improvement shows, but the reality is a bathroom remodeling project can be very involved and can quickly turn into a nightmare if you don't have experience or training.
While you may want to try to save money by doing it yourself or by overseeing workers on your own, in the end it can cost you more money when things go wrong. If you want to protect your investment, hiring a professional is the only way to guarantee the work will get done correctly.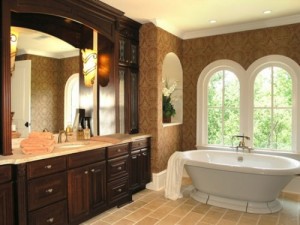 Professional contractors can also help to negotiate the best price for materials as they work with a large network of suppliers. So while you think it might be more expensive to hire a professional, in the end it could save you money.
A professional expert can also put your mind at ease. Remodeling a bathroom requires great attention to detail. If you're busy trying to work another full-time job and raise a family, it's difficult to add another major project to your schedule.
With someone else in charge you can be free to take care of other important events in your life and trust that the contractor will oversee the project and take care of the many tasks that need to be done. That leaves you able to enjoy your weekends instead of spending them sweating in a small space.
A contractor can also help you to develop a realistic budget and even help you to have a better bathroom than you originally envisioned on your own. For example, a plain shallow tub can be replaced with a deep jetted tub or a luxury rain shower.
A bathroom remodeling project can take you from an old dingy bathroom to the bathroom of your dreams with the right expertise. It will also add value to your home if you ever choose to sell. In fact, if you're planning to sell your home a bathroom remodel will likely pay for itself.
If you're ready to sit down with an experienced professional to explore your bathroom remodeling project options, give Scott Fowler a call today at (334) 246-2911.